WILD MOUNTAIN RUNNERS' 2006 CHRISTMAS RUN
After running approximately 3 miles, Santa, in consultation with his elves, decided to take photos at the Chinese Grumman Theatre. As we approached the theatre we were spotted by throngs of mostly Chinese tourists and immediately they began to take photos. Fascinated that we may be all part of a planned Hollywood act, they posed with the group and clamored to take photos with Santa and the group. Ernesto *Mostachon* Davila appeared to be the most popular with the ladies, one of them actually sat on him lap. This was one of the best parts of the run as little children eyed Santa with delight. I could not help notice the sparkle in their eyes. We then headed off to the Highland/Hollywood Metro Station. All rides are free on Christmas so we headed towards the Sunset/Vermont station.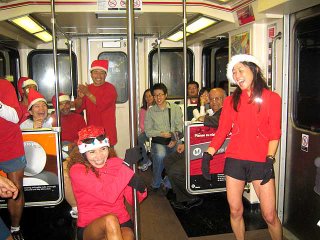 From the Sunset/Vermont Station we headed off to Donnas house. Climbing a short but steep hill we arrived at her Silverlake house (a beautiful house with a great view of the lake) and there we were treated to Donna?s hospitality with snacks, water, soft drinks, and of course ? Beer! Sergio Palomares, otherwise known as *Cuarto Marathon*, sang for us and after 15 minutes of rest, we headed off to Griffith Park. To replenish our body strength, tamales and champurrado was distributed by Santa Clause and some of his helpers. It was another wonderful Christmas Run!
Merry Christmas and Happy New Years to all runners and children around the world!!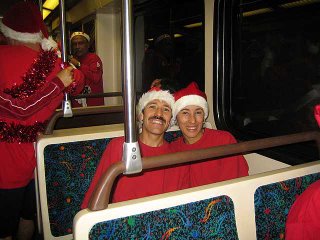 Leonel Avalos and friend
(Leonel came in 1st overall at the Long Beach International City Bank Marathon 2006 with a finishing time of 2:27:24)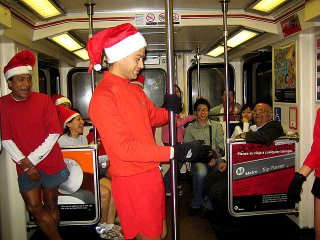 When Guiellermo is not training for 100 milers, he conducts classes for exotic pole dancing.
(Pole dancing in the train going 40 mph is not easy as it looks)
Chinese theater (below)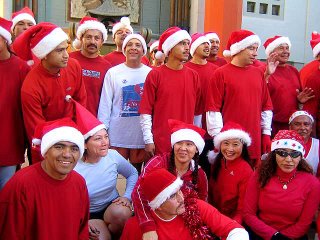 Fern Dell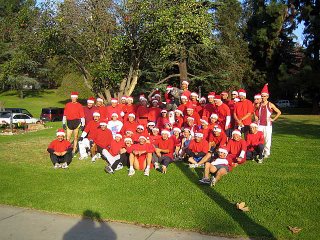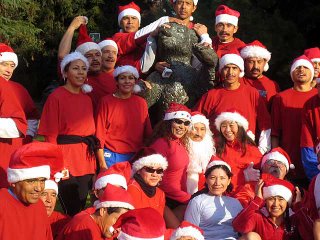 El Coach and his student Rosa

Mario, Rosa, and Douglas

Santa's Huntington Park helpers
Coach Paco's students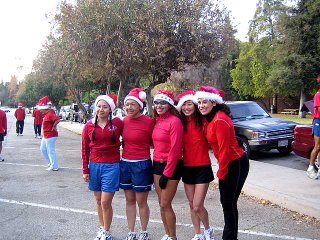 Santa's sssspecial helpers (oooh la la)


Seriously... that is one lucky Santa!