Gato Profile: Abel Ibarra
Gato Profile: Abel Ibarra discovered running as the key to his health.
By: Gilbert Varela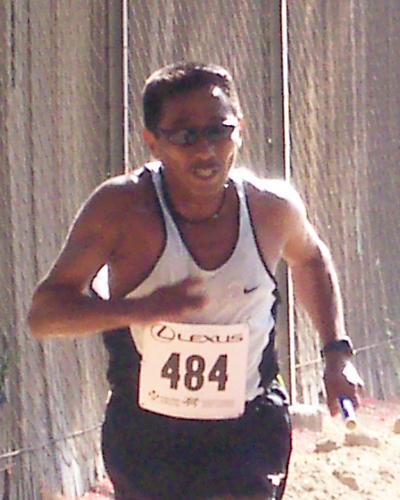 Fifty-one year old Abel Ibarra remembers how he struggled to breath as he choked during one of his many asthma attacks. Many nights he could not sleep as he struggled to breath normally. He had sought medical help but it was not until he discovered running that the cure happened. "
I thought that maybe running would clear up my respiratory system. So I started to run and within six months I felt the difference
" said Abel.
Abel starting running in 1982 and has not stopped since. He knows that if he stops the asthma will begin to creep into his life. Although at first Abel only ran to help his asthma, running has become part of this life. He proudly sees himself as a loyal and capable WMR runner.
He started slowly but by 1984 he found himself running longer and faster. He then discovered competitive running and started to register for many of the local 10k runs. He realized that he had competitive running potential when he ran a 38 minute 10k at one of his first races.
He credits much of his love for running to the Gatos. "In 1984 I used to run at Hansen Dam and met three Wild Mountain Runners, Freddy Perez, Pedro Ponce and Ramon "Apache" Cuevas. I soon joined the club", said Abel. Abel has remained a loyal and dedicated member of the San Fernando Wild Mountain Runner chapter. Abel can always be counted to be there when the club needs him.
With long strides and pendulum swinging arms, Abel is known for a gutsy and unrelenting running style that challenges anyone close to him. Even his voice sounds firm and proud when he talks about his best marathon time of 2:48 at the 1987 Long Beach Marathon. His best 5k was timed at 16:40 at the famous Aztlan Run in East Los Angeles.
Abel said that his favorite race is the Los Angeles Marathon.
At 51 years of age, Abel continues to focus on his running realizing that training is the key to great running times. Training once again paid off at the July 31, 2005 San Francisco Marathon. Abel finished with a fantastic time of 3:16:13, placing 153rd out of 3123 runners. He placed 7th out of 280 males in his age division. Congratulations Abel!
Married and the father of two young children, Abel came to the United States in 1975 by himself. Abel states that he left from Michoacan, Mexico seeking a better life. In the process he discovered that running made him healthy. "I love running and if you can call it a vice, it is a great vice" exclaimed Abel.