WMR Newsletter August 2006
Gatos and Gatas hit the Streets of San Francisco!
By: Gilbert Varela

Braving the San Joaquin Valley 90+ degree heat and miles of a boring agricultural landscape, on July 28th Chris Quesada and I drove north to run the San Francisco marathon and half marathon. Other Los Angeles and San Fernando Gatos were a lot smarter as they chose to fly over the treacherous-truck ridden Grapevine. Those smart Gatos and Gatas were Rosa Arevalo, Julio Jaramillo, Marco Morales, Pancho Rodriguez, Abel Ibarra and Betty Velasquez. Actually, Chris was scheduled to fly on Saturday morning but graciously decided to ride with me to keep me company. Chris also wanted to spend an extra day with his brother Ramon Quesada and family. Ramon, his wife Anne and two children live in the beautiful Height/Ashbury district of San Francisco. Ramon, a WMR member, has in the past unselfishly offered their home to us. Last year four Gatos, including my self, stayed at the Quesada home. We were treated to good food, a little tequila and very interesting conversation. This year the family again offered their home. Ramon prepared a delicious gourmet pasta dinner that we are still talking about. Then after the run, Ramon and his wife hosted a barbeque for us. Hungry and without shame, we filled our plates two and three times with great Filipino food. We met many family members, including some who are runners. A million thanks to Ramon and his family for their friendship and hospitality.

San Francisco has the best summer running weather. In contrast with Los Angeles where the weather had been 90+ for two weeks, San Francisco ranged from the 60s to mid 70s. However driving and finding parking in San Francisco requires expert navigation. There are so many one-way streets and figuring out what is north and south requires a degree in geography and a compass. Fortunately we had Julio Jaramillo (J.J.) as our guide. I would bet my farm (if I had one) that J.J. has the best sense of direction in our club. He sat on the passenger side belting out directions like a marine sergeant. J.J. led us to an area near Fisherman?s Wharf that was splattered with restaurants. We found an Italian restaurant with great pasta dishes.
We washed down the pasta with a seven year old bottle of Merlot and Tsingtao beer. Some us may lack the preparation to run the marathon but we are always well to prepared eat, drink and party!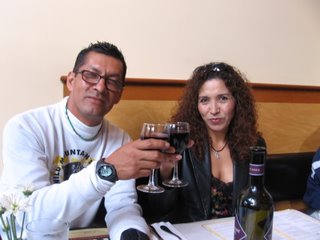 Although San Francisco is not as tough as it used to be, (although some would differ with me) it is still a very challenging course. Many runners complained that there were too many hills and the times were slow. As a result race organizers eliminated areas like the Chinatown district
where at mile 24 runners faced the steepest and longest climbs. Now the hills are generally concentrated at Golden Gate Park and the last 8 miles are essentially down hill and flat.
Joining us for the first time was 29 year old Marco Morales. Marco is into construction work and had very little time to prepare for the marathon. His longest run was a 12 miler! However I know Marco to be a very talented runner who relies on natural ability and plain guts. I coached Marco 10 years ago at Eagle Rock High School. At that time he was running the 3 miles cross-country course in the low 16s. Marco finished the 26 miler in 3:48:58.
Running his 60th marathon, Julio Jaramillo crossed the finish line in 3:31:50. This was quite an accomplishment given that in the he ran a total of 4 marathons in six weeks! The four marathons included Los Angeles, Torreon, Tijuana and Boston all which J.J. ran in the 3:40s and 3:30s. For those who know about marathons, you know how difficult it is to recover after a 26 mile run. He has the three more marathons planned for this year.
*Iron horse* Abel Ibarra from San Fernando finished with a tremendous time of 3:18:35. I saw Abel half way into the marathon and he was pumping those arms and moving those legs like a surging locomotive. This style is typical of Abel who never lets up and never slows down. Abel is now getting ready for the Long Beach Marathon in October.
Joining Abel in the 26 miler was Berith Velasquez from San Fernando Gatos. Berith is best known as Betty. Betty is a consistent and strong runner. In the recent past, she has placed first in her age division. At age 50, she finished with as strong time of 3:59:21. She placed 6th out of 79 in her age division. Congratulations Betty.
Before the race Chris Quesada had been complaining of a swollen left foot. I saw his foot and it looked quite bad. I warned him that he should not risk further injury by running. The day before the race he tried running but the pain and swelling was still there. Before the start of the race he was observed grimacing in pain and sad that he might not start the race. However, I was surprise to see him at the 13 mile mark running at a strong pace with a smile on his face. I thought that a miracle had happened when he cross the finish with a lightning time of 3:16. Chris miracle was aided by the anti-inflammatory medication that he took before the race. Good thinking Chris and I hope you feel better!
Francisco *Pancho* Rodriguez at age 51 placed 18th out of 100 in his age division. It appeared that Pancho held back and could have run the half much faster. At mile 8 or 9, he whizzed by me moving in what seemed 7 minute pace. Pancho started running four years ago and has come a long way in a short period of time. It goes to show that it is never too late to improve on your running.
Rosa Arevalo at age 47 placed 20th out of 405 in this very competitive age division. Rosa qualified and ran the very prestigious 2006 Boston Marathon and now she is trying to qualify once again for the 2007 Boston Marathon. Looking at her time in the San Francisco half, she should have no problem doing so. Although Rosa was far from satisfied, she managed a respectable time of 1:51:13 in the half.
Yours truly was just happy to break the 2 hour mark. My friend Roberto *Kadafi* Perez thought I would finish with a 2:20 or 2:30 so finishing with a 1:57:09 felt like a big accomplishment. My aim was to run the marathon but lack of training and variety of minor strains kept me in the half. There is always next year.
I love San Francisco!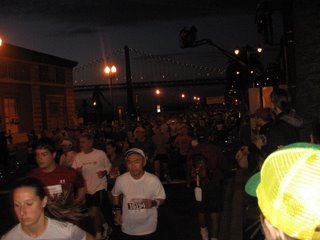 The race kicked off @ 5:30 am. Photo taken by Chris.


Marathon Finishers: Olga, Chris, & JJ