Gato Profile: Araceli Aguilar
Gato Profile: Araceli Aguilar de Menjivar sees patience as the key to running.
By: Gilbert Varela
Throughout the history of the Wild Mountain Runners, few women have joined the club. Yet those few ladies have contributed a great deal. One of these ladies is Araceli Aguilar de Manjivar.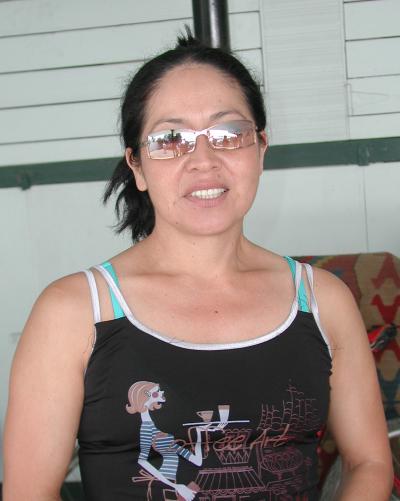 Araceli is no ordinary runner. She has placed 15th overall in the women division in one of her best Los Angeles Marathons with a time of 3:07. She completed the 2001 Las Vegas Marathon with a time of 1:26. For those who have had a chance to compete or train with her, you know what a tough runner she is. You would think that she has been running all her life but this is not the case.
Araceli was born in Puebla, Mexico, the place where a small army of Mexicans defeated a large and well organized French army in 1861. One wonders whether her strength comes from an ancestor who fought in that battle. But Araceli is more down to earth attributing her running abilities to simple patience. She learned patience at a very early age. She tells the story of her grandfather whose philosophy of life was based on patience. "Once he came home after having been robbed of all his money. Yet he was calm and unmoved. He said that he was not in need and that the person who robbed him needed the money! "
Araceli started running by coincidence. At age 19 I moved in with my mother. I would do my work and leave. I felt angry at the whole world. A few of my friends ran and they invited me to run.î Araceli began with short runs around the block She increased her running were she was running up to 15 kilometers at a time. I loved running. I felt like Forrest Gump. Running cleared my mind.
Araceli enrolled at a teaching college and after completing her studies, she taught a short time in Mexico and then came to the United States in 1989 to study English. She enrolled at Los Angeles City College. Once as she was running around the track she was approached by the cross-country coach who, with the help of an interpreter, convinced her to join the cross-country and track team. She became their most valuable female runner. With a time of 19:05 in the 5k, she rarely lost a race.
Araceli joined the Gatos six years ago and has since become one of the clubís most dedicated runners. "I love the friendship, the long runs and the social activities that go with the club" said Araceli. She particularly refers to the Lake Isabella as her favorite run.
A few years ago, Araceli married Gato Ricky Menjivar and hopes to have a family. She also wants to continue teaching autistic children. "It takes a lot of work and patience working with autistic children but I get a great deal of joy watching their improvement" said Araceli.
Araceli wants to repeat her 3:07 marathon time. She realizes that reaching that goal will be difficult, but with patience and hard work, no one can underestimate this Wild Mountain runner lady to repeat this feat.