FLASHBACK 1984 - Bob Macias
The following article was published in the August 1984 issue of the California Track and Running News Issue No. 94

The Brentwood 10k

By Richard Le Sotkin

May 27, 1984

First impressions die hard sometimes. My first experience with the Brentwood 10k was the second running, back in 1978, and it was a hot day. The temperature at the 9 a.m. start was already ninety and would rise to 95 before any of us were through. Since then, the weather has been right on to perfect: Cool, cloudy and sometimes even a bit of a drizzle. Yet, the feeling persists, is it going to be another hot one? Well, gee whiz, theyve only had one out of eight, so the odds ought to be with you. Well, they were. The weather was the usual: cool and cloudy. True, it did begin to warm up a bit after about 20 minutes, but for most of the people, that was not a significant factor.

The Santa Monica Track Club was out in force and it paid off. They took six of the first ten places and had several winners in the girls age groups. Up front was where the excitement was though. Santa Monican Care Simon led for about six miles, only to be overhauled by in the last quarter mile by teammate Bob Macias. A very hard charging Macias, he of the vicious kick.

Normally, Simon doesnt like to lead, but a very slow pace put him in front practically by default. Mark Junkerman and Dave Babiracki hung right on his shoulder though, letting him do all the work. Junkerman was so close that on several occasions Simons heels made contact with him. A couple of times he turned around and told Junkerman to give him a little room. * Youve got the whole road; you dont have to run up my back!*

At about 5 miles, however, all that became academic as Simon, sensing that Junkerman was fading ever so slightly, and that Babiraki had fallen well off the pace, started to surge. He wasnt feeling so hot himself, by that time, but he figured he might as well get going and try to get it over with. Meanwhile, Macias was starting to make his move. *Maish* as the guys call him, had fallen over a hundred yards behind in the first loop of the two loop course, but by the 5k had begun to close the gap a bit. Constantly psyching himself up by telling himself to run tough and reassuring himself by telling himself that his rhythm was very good, he was, in fact, winding up for the famous Macias Kick. Going into the last turn around, he saw that he was almost on Babiracki and would pass him very soon. And, not far beyond Babs was Junkerman. Simon was still a long way ahead, but second place wasnt too bad; not considering the way he had been running of late.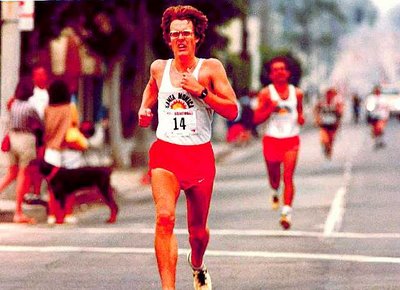 So, off he went. Pass Babiracki, ready for a challenge, but non came. Pass Junkerman. No challenge there either. In fact, Babs was going to be passing Junkerman shortly. Now, all that was between him and the finish was a half mile of road and Simon. Closing to within 40 yards of the now fading Simon, he heard a photographer on the pace car call out to Simon that *?Macias is only 40 yards back, and gaining!*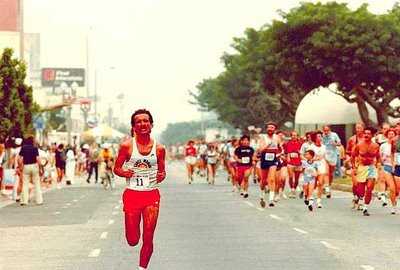 Macias thought, *Yes, I am, arent I?!* Pressing very hard, he made up those 40 yards in no time and passed Simon so quickly, that within a few strides he had opened up a five yard lead. There was less than a quarter mile to go and in that distance, Macias built up a 16 second, thanks to the big lead he had built up earlier when he surged, but Babiracki was coming on. Too late, though.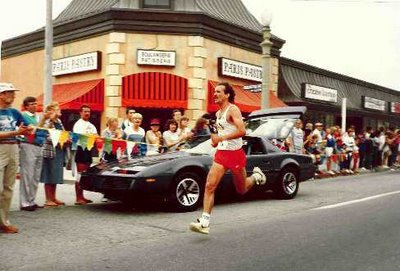 When all said and done, most everyone was pretty happy, Macias and Walker were very pleased with their wins. Simon was happy with his effort, and Junkerman had come up to him and apologized for the contact, which he explained was inadvertent.

And, thank God, It wasnt hot!

1. Bob Macias, SMTC (33) 30:06
2. Care Simon, SMTC (28) 30:22
3. David Babiracki, Sub 4 (31) 30:28
4. Mark Junkerman, UCLS (18) 30:43
5. Towm Wheeler, SMTC, (30) 30:45

For the records: Finishing time for the 50th place was Rafael Sanguino (17) 34:28